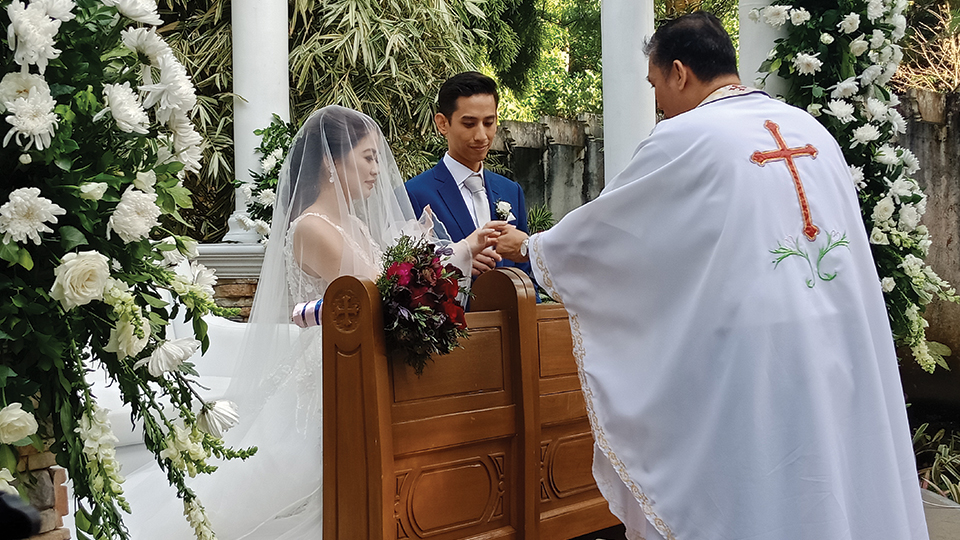 We are the CATHOLIC WEDDING TEAM from the Marriage & Family Laws Division of BCIDP Law Office & General Consultancy. This presentation shall apply only to CATHOLIC OUTDOOR WEDDING requirements of any citizenships.
As you know, the Roman Catholic Church has totally prohibited the holding of Catholic marriage rites outdoors for it was greatly abused[1]. Hence, you might be wondering why we are allowed to perform otherwise. Simply because we are not covered by the prohibition as we are from the Eastern Catholic Church (https://en.wikipedia.org/wiki/Eastern_Catholic_Churches). We are in full communion with the Pope in Rome as explained by Wikipedia.
Historically, those who broke-away from the Roman Catholic Church are called "break-away groups[2], hence, do not recognize the supremacy of the Vatican pope. Our outdoor (garden or beach) Catholic sacrament of marriage is the same as it has been done inside the Church[3]. Moreover, all the sacraments performed by the Eastern Catholic Church are all considered as VALID by the Latin Church, also known as the Western Church or the Roman Catholic Church[4].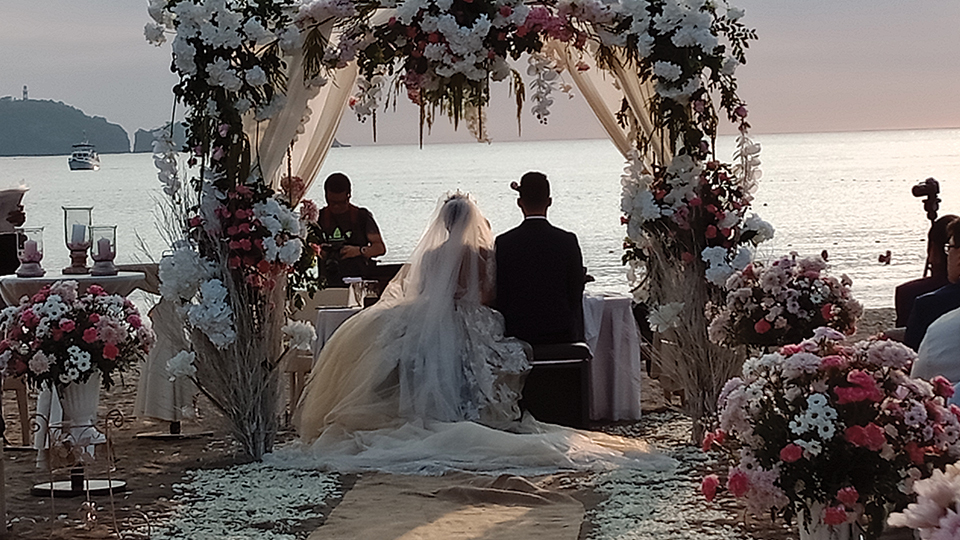 On the legal side, Art. 7 (2) of the Family Code of the Philippines states:
(2) Any priest, rabbi, imam or minister of any church or religious sect and registered with the Civil Registrar General, acting within the limits of the written authority granted him by his Church or religious sect and provided that at least one of the contracting parties belongs to the solemnizing officer's Church or religious sect" (emphasis ours);
As a soon to wed couple, to be considered "belongs to the solemnizing officer's Church or religious sect" which is the Catholic Church, and for you to receive the "Sacrament of Marriage", one or both of you should have been baptized and confirmed by the Church supported by your baptismal and confirmation ("kumpil") certificates. These are the standard requirements of the Church before receiving any sacraments i.e. baptism, "kumpil", communion, marriage, etc.
When getting married, you shall be dealing with two different governments that has separate powers under our Philippine Constitution, which we require likewise:
Requirements
REQUIREMENTS
CIVIL GOVERNMENT
CHURCH GOVERNMENT
Valid Marriage License issued by your City / Local Civil Registrar[5]
Baptismal Certificate
PSA[6] CENOMAR[7]
Confirmation "Kumpil" Certificate
PSA Birth Certificate
Pre-Cana Seminar by us[8]
Parent's Consent[9] / Advice[10] (as applicable)
Canonical Interview by us
Marriage Counselling[11] by the Marriage & Family Laws Division of BCIDP Law Office as required under our Family Code;
NOTE 1: If you cannot produce these certificates, our resident priests can perform to you these Sacraments of Baptism & / or Confirmation[12], prior to your marriage rites;
NOTE 2: Banns are not required for outdoor weddings;
If previously married overseas, copy of such marriage certificate, authenticated or not;
If previously married overseas, copy of such marriage certificate, authenticated or not;
If ALIEN or BOTH ALIENS
Verifiable Copy of Certificate of Legal Capacity issued by his / her embassy in Manila;
N/A
If ANNULLED or DIVORCED
Verifiable Copy of such VOID certificate or finality[13];
N/A
Machine copies of alien's PASSPORTS or government issued ID's with home address;
N/A
Copy of the passport page with the stamp of the latest arrival in the Philippines;
N/A
OTHERS
Machine copy of your Venue Reservation Contract, if already available
(or to submit to us thereafter);
N/A
The Eastern Catholic Church in the Philippines has endorsed some of their missionary priests to the Philippine Statistics Authority (PSA) to solemnize marriage and granted the license to solemnize marriages "anywhere in the Philippines". This office (BCIDP) ensures compliance to our Family Code of the Philippines and to counter the various "marriage syndicates" in the country producing fake private, marriage or commercial documents.
To date, we hold the distinction of being the most trusted legal source of licensed wedding ministers[14] as attested by our countless past married couples who have all been living happily ever after locally and overseas by virtue of their verifiable and authentic marriage documents facilitated by this firm. Simply because we totally understand that this has a life – long effect to your marriage as a couple, to your lifetime goals, and to your family's future.
Fortunately, we have guaranteed back-up PRIESTS available 24/7 to save the day in case your assigned PRIEST becomes unavailable due to emergency cases.
To reserve our resident (Latin) Catholic Priests for your outdoor or indoor weddings, send us a private message.
Footnotes
[1] Circular No. 2004-65 issued 12 October 2004 by the Roman Catholic Archbishop of Manila signed by Gaudencio B. Rosales, D.D.;
[2] Protestants, Aglipays, etc. Break-away groups mean "rebels" or protesters; https://en.wikipedia.org/wiki/Philippine_Independent_Church';
[3] https://www.britannica.com/topic/Eastern-rite-church
[4] https://en.wikipedia.org/wiki/Eastern_Catholic_Churches
[5] Documents or requirements may vary depending on the City / Local Civil Registrar where one of you resides;
[6] Philippine Statistics Authority (PSA) formerly NSO;
[7] Should be issued by PSA for not more than six (6) months;
[8] Conducted by your assigned priest in our Palanan, Makati office or in your chosen wedding venue prior to your marriage rites, for additional fee in the form of a "Church donation" for whatever amount your heart decides;
[9] Art. 14, Family Code of the Philippines, for parties between the age of 18 & 21;
[10] Art. 15, Family Code of the Philippines, for parties between the age of 21 & 25;
[11] As required under Art. 16, Family Code of the Philippines, held by BCIDP for 2-3 hours in one session;
[12] To be held at our Palanan, Makati City office by schedule, with a minimal additional fee;
[13] From PSA or from the court which issued the annulment / nullity decree;
[14] Who have actual Churches or Church structures with minimum of 200 members as required under Rule 2.20 (d) of Administrative Order No. 1, Series of 2007 by the Civil Registrar General;